The MINIMUM starting age of the various Character Classes is the Default age for a character.  If an older character is desired, see below for instructions.
| Class | Minimum Starting Age | Dice Rolled to Age the character |
| --- | --- | --- |
| Adept* | 18+2d8 | 2d8 |
| Mystic** | 18+2d6 | 2d6 |
| Medium | 16+1d4 | 1d10 |
| Rogue, Burglar | 13+1d4 | 1d8 |
| Rogue, Mugger | 16+1d6 | 1d8 |
| Rogue, Con Man | 13+1d4 | 1d8 |
| Fighter, Reserve Soldier*** | 22+1d6 | 1d6 |
| Fighter, ex Soldier*** | 36+1d4 | 1d6 |
| Fighter, ex officer*** | 32+1d6 | 1d8 |
| Marshal, Sheriff, Deputy (US) | 20+1d6 | 2d10 |
| Constable, Patrolman**** | 36+1d10 | 2d6 |
| Outdoorsman | 15+1d6 | 2d10 |
| Sportsman, Student***** | 18+1d4 |                      -NA- |
| Sportsman, Older ***** | 25+1d8 |                        1d6 |
* Studying to become an Adept is a long, slow process due to the need to research from scratch virtually everything.
**Mystics are presumed to have completed between four and six years of religious/metaphysics study/training.
*** Army Infantry, Cavalry or Marine. All PC military are 'Short Term' and have served at least seven years on active duty and are now in their six year reserve OR retired after twenty one years service. While in the reserve he may reside and carry on business where he pleases, but is liable to short periods of service, and may be called out again on an emergency. He receives 4d. per day while on reserve, and if called out again his service counts towards good-conduct pay.
****  Constable recruitment criteria required applicants to be under the age of 35, in good health, and to be at least 5 ft 7 in (1.70 m). Working shifts lasted 12 hours, 6 days a week, with Sunday as a rest day. It is assumed that a PC is no longer on active duty after having served a period between 1 to 10 years.
***** Student Sportsmen are still in University or have just graduated.  Student Sportsman can be no older then 22 when starting out.   Professional Sportsman graduated into their profession some years before and have maintained their sporting skills.
A Character Class' starting Skill Points is a reflection of the class's Minimum Starting Age. It is possible to start an older character and have more starting Skill Points (NOT weapon proficiencies.) Remember, as character's age Attributes change.
Note:  Extra Skill points generated by Aging the character at the time of creation MUST be split between Professional/Job Skills and any other Skill type the player selects.   If only 1 point is gained due to Age it MUST be applied to Professional/Job related Skills.
Aging Your Character
The player may opt to age a starting character in order to better develop its skill sets. Doing so does gain extra skill points AND will modify Attributes, raising some and lowering others. This is done by taking the MAXIMUM starting age and adding the number generated in the classes NOTE: No Physical Attribute can be raised above 18 (Except Strength which results in an Exceptional Roll) by Aging the character.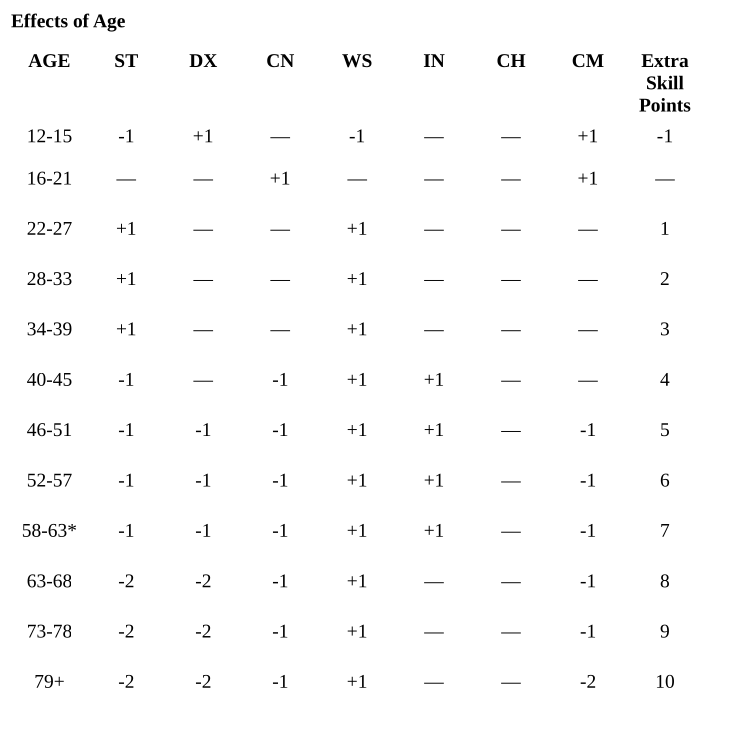 * 58 is the maximum starting age for a PC
Not all Aging Effects are cumulative.  Only Skill Points are cumulative.  A 35 year old character does not gain +3 ST, +2 WS and 6 skill points!  The 35 year old character gains +1 ST +1 WS and 3 Skill Points.